City Centre (Downtown) Revitalization & Redevelopment
Property Location:
Downtown Belleville
Estimate:
$34.5 Million (all phases)
Completion:
Phase 1 Construction Completed 2015, Phase 2 Construction Completed 2016, Phase 3A completed in 2017.
Status:
Phase 3B construction from March – October 2018: McAnnany St, Market St. & Front St. (Bridge St. E. to Dundas St. E.)
---
Project Manager
Name:
Denis Pianarosa
---
Project Details
Work was completed in 2012 to establish an Intensification Plan for the City Centre as a follow-up to the 2006 Downtown Master Plan. In order to implement this Intensification Plan it is necessary to upgrade the existing municipal services within the downtown core to provide the needed servicing capacity to accommodate the new development and growth envisioned by the Intensification Plan and replace aged infrastructure.
The City Centre Revitalization and Redevelopment (CCRR) Project is a multi-year municipal services and streetscape project that will reconstruct Front Street and a number of adjacent side streets in Belleville Downtown.
Underground Infrastructure work will Include:
Removals and replacement of watermain
Relining of sanitary sewer
Replacement of sanitary sewer
Replacement of storm sewer
Installation of new utilities
Surface work will include:
Reconstruction of roads, boulevards, and sidewalks, including new asphalt, concrete and clay brick pavements;
Installation of new urban design and landscape elements including new street lights and traffic signals, street furniture, granite-curb planters, and street trees.
The initial design was completed by the architectural firm of Office for Responsive Environments (ORE), in partnership with the engineering firm of LEA Consulting Ltd.
The initial tender process took place in the summer of 2014, which resulted in bids exceeding the allotted budget. As a result, the tender was cancelled and the consultants and City Staff conducted a review of the design and contract approach to identify potential sources of cost savings. A new approach and design changes were developed and adopted in December of 2014 and work has proceeded in accordance with the new plan, which included separating the project into three [phases (contracts) to be completed as follows:
Phase 1 of the project, which was completed in 2015, includes approximately 130 metres of Station Street, from Church Street to Pinnacle Street, and 390 Metres of Front Street from Pinnacle Street to Victoria Avenue.
Phase 2 of the project, which was completed in 2016, includes Front Street from Victoria Avenue to Bridge Street, including portions of Victoria Avenue and Campbell Street between Front Street and Pinnacle Street.
Phase 3 of the project, started in 2017. Work in this Phase will be completed on Front Street from Bridge Street to Dundas Street East, including portions of Bridge Street East, Market Street, and McAnnany Street between Front Street and Pinnacle Street. Phase 3 will be completed over two years (2017-2018) as follows:
Phase 3A was completed between June 2017 and November 2017. This Phase involved work on Bridge Street East from Pinnacle Street to the Moira River, and Front Street within Bridge/Front intersection.
Phase 3B was started on March 5, 2018. This phase includes work on McAnnany Street, Market Street and Front Street (between Bridge Street East and Dundas Street East). This Phase will be completed in October 2018.
Project Update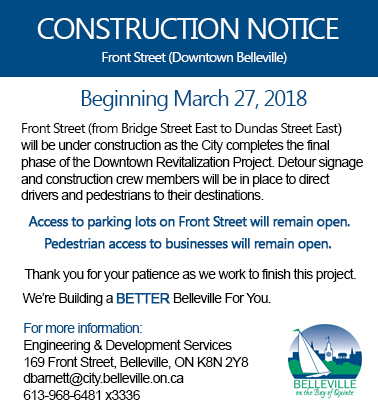 PHASE 3B
Construction on the final installment of this project officially began with the closure of McAnnany St. on Monday, March 5, 2018. During construction City Hall will remain open & there will be no change to City services or hours of operation. Access to local businesses & parking lots will be maintained & the Farmers' Market will operate as usual.
---
Project Files
Media Release - Phase 3B Start
Frequently Asked Questions
City of Belleville Downtown Revitalization - 1st Public Information Centre - February 19 2014
City of Belleville Downtown Revitalization - 2nd Public Information Centre - Part 1 - April 9 2014
City of Belleville Downtown Revitalization 2nd Public Information Centre - Part 2 - April 9 2014
Brick - Paving - Technical Information
Build Belleville Downtown
Downtown Renaissance and Redevelopment - October 2 2013