Belleville Downtown Commons Feasibility and Economic Impact Study
---
The City of Belleville has conducted a Feasibility and Economic Impact Study for the entire area around City Hall; the Downtown Commons.
This project includes the visioning and conceptual design process for the redevelopment of Market Square and takes into consideration the possible uses and repurposing of the Memorial Arena, in addition to possible redevelopment opportunities for other City owned properties around City Hall located along Belleville's riverfront.
PROJECT SUMMARY
The Downtown Commons Feasibility and Economic Impact Study presents "high level" concepts that examine how Belleville could make the City Centre a vibrant place to live, work and play. It is also responding to the downtown stakeholders' and the general public's opinions, observations and suggestions through interviews, surveys and a public open house.
We learn from studying the past to hopefully make the future stronger, more vibrant and sustainable. This is a presentation of ideas with back-up rationale to be reviewed with an open mind and a sense of the common good.
Belleville Commons is a name proposed for the area surrounding City Hall. Commons or town greens have historical context over many centuries as being social spaces where townsfolk and visitors gather for celebrations, special occasions and general relaxation. They are the core attraction of numerous downtowns and mark the city centre as the vibrant cultural and financial center. They provide a "sense of place" where the personality and character of a community can shine and be recognized and celebrated.
Belleville has wisely invested in the physical revitalization of its' downtown; it is an investment where the dividends are not just financial but also provide a sense of well-being and community pride and spirit. When talking with many people during our research, we sense there is a growing groundswell of support for continuing with the Build Belleville Downtown initiatives to include development of the Commons area, which is predicted to spur on private investment made more confident by the City's commitment to the City Centre.
We respectfully request your comments so that the City can better understand how you - the public - relate to the design concepts and economic impact studies of this report. To underline our previous comment, this is a "high level" presentation of ideas that we see as being part of the bridge building to a revitalization process to invigorate and sustain, not just the downtown, but the entire City.
RIVERFRONT COMMONS
The riverfront land assembled by the City is ideal for developing a major pedestrian-friendly green space for programming of community events and for simple relaxation. It is a "celebration park" where many events can happen with the backdrop of the historic City Hall on one side and the Moira River on the other. Belleville will be able to showcase this natural attraction and tie in with the waterfront trail systems of the Riverfront Trail and its connection with the Bayshore Trail. Many respondents to the survey remarked how Belleville does not celebrate its natural assets such as the Moira River which runs through the downtown core. They also remarked that having parking lots along the shore of the river is a waste of valuable land and that the parking should be relocated to other less desirable locations or in a strategically located parking structure. We also heard ideas for managing employee parking demands with municipal transit services.
This riverfront park will include many features and attractions for citizens and visitors alike. A summer fountain and a winter skating rink is being proposed for the space in front of the reclaimed brick and stone arches across from City Hall. Both of these seasonal views are presented in coloured renderings to illustrate the lifestyle opportunities that are possible. As noted in the introduction to this visual presentation, these ideas are "high level", meaning they are not cast in stone as being the finished product but rather they are meant to elicit response from the public. People can cherry pick ideas, and the designers of the project can then produce a composite design that is both fun and practical.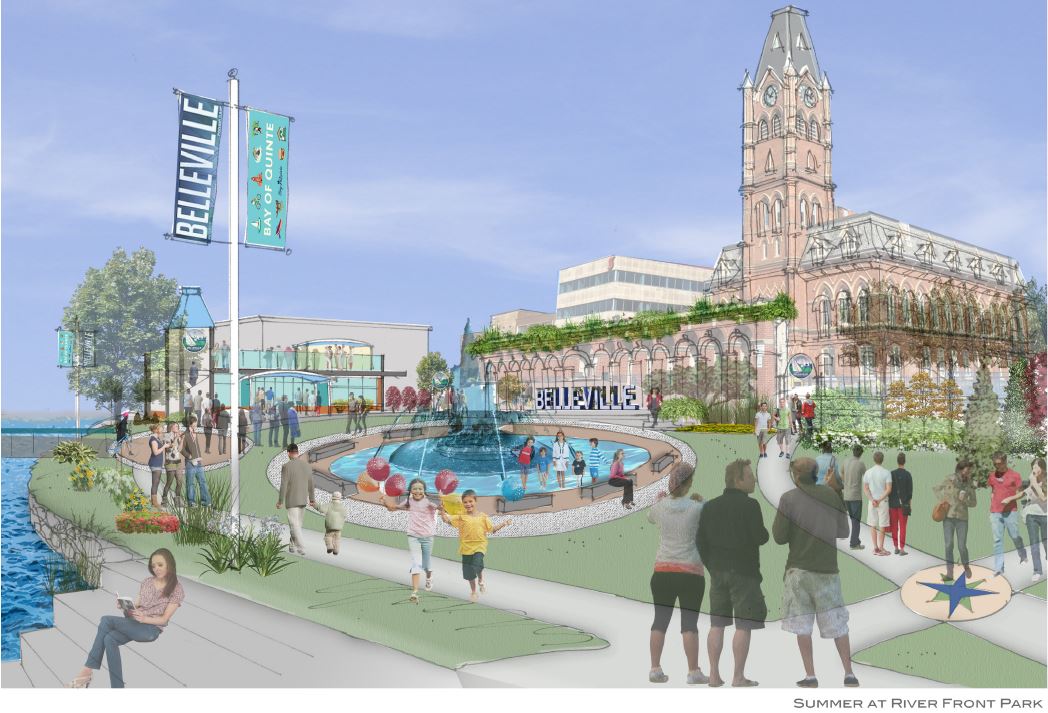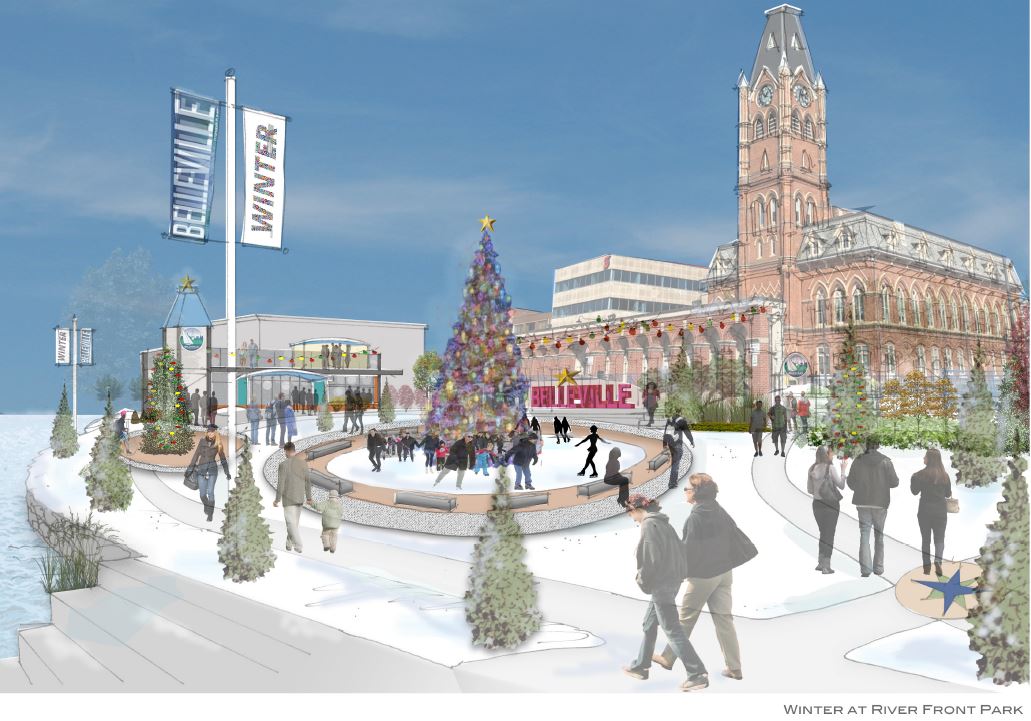 It is felt that the park will be a central gathering place in the city centre that will invigorate the area around City Hall referred to as the Belleville Commons. As it will have many year-round features, it needs a year-round events building that would house a visitor centre, a cafe, public washrooms, security station, chair and table storage, rentals of skates in the winter etc. The building shown in the renderings would be at the north end of the park and would have a dining and licensed patio on the ground level and on the roof top. The roof deck would be accessible from the interior and from an exterior stair in an open tower. This will allow people to look down on the park and would offer terrific views along the river as well as being a beacon to visitors and tourists.
At the junction of the Riverfront Trail and this Events Building we are showing a pedestrian bridge connecting downtown east with downtown west, which many people we interviewed felt was integral to the well-being and connectivity of the two Belleville neighbourhoods. At the centre span of the bridge is a circular viewing platform where people can get out into the nature of the river for great views, including the proposed water fountains in the river which can be illuminated at night and even set to music with programmable fountain spray shows.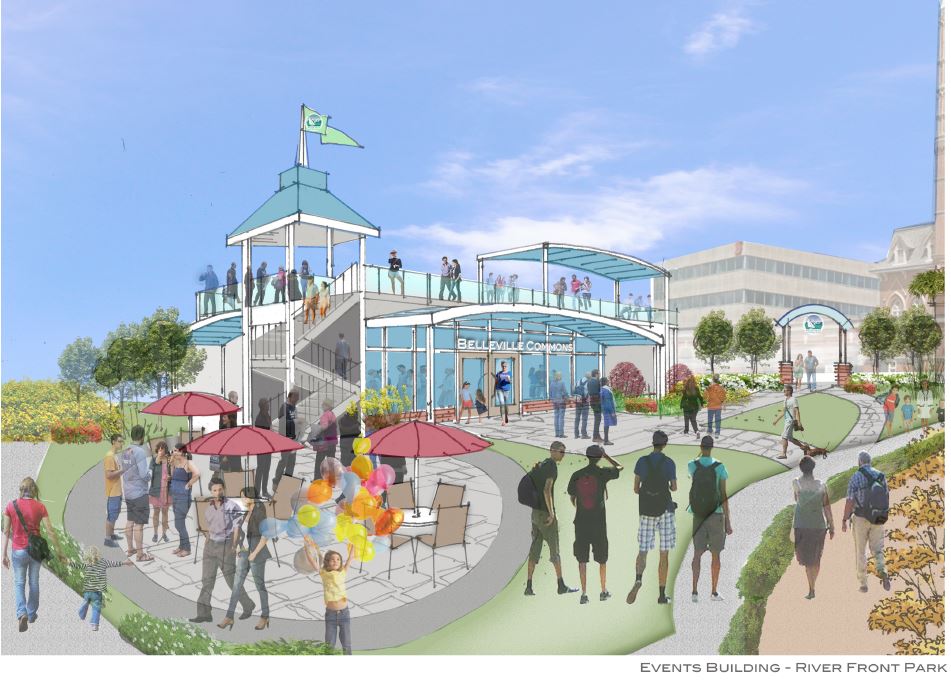 The central feature of the park is the winter skating rink (with its own refrigeration for extended seasonal use) and summer shallow water pad and spray fountain. We are showing granite benches in a circle around this feature and a stage set up in front of the iconic brick arches of the historic Cable View Building. The arches already have a copper-lined planter running along its length which can be fitted with ivies and other planting materials which will enhance this significant architectural feature, especially with enhanced lighting.
Along the trail walking south is a large shade pergola with seating, announcing the river steps feature and picnic area. Research has shown many cities around the world have these wide concrete or stone steps leading from the banks down to the water's edge. People love the connection with water as they find it relaxing. As this is a riverside park it makes sense to celebrate the location with the river that changes its ebbs and flows with every season. Some might find this thinking as being unsafe, but from our research this is not the case, and river steps have become wonderful natural places to enjoy a lunch or coffee or reflect with a book in hand.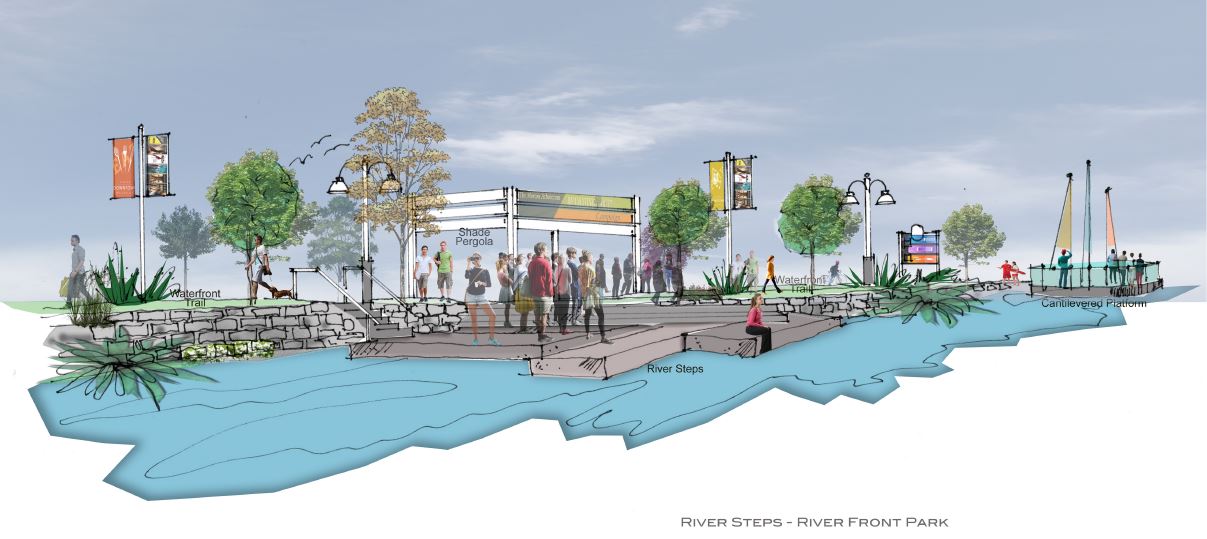 Adjacent to the river steps along the southern boundary of the park shows a number of picnic circles with metal umbrellas in various colours where families and friends can gather out of the hot sun with their lawn chairs or picnic blanket. These umbrellas would be removable for sight lines at concert-type events in the park or can be left in place as vendor stations for food and beverages for festivals or arts and crafts pop-up events. Other possible features could be added to this area, such as a piano, ping-pong or chess installations.
Running along the Front St. side of the park would be floral displays that could change in design themes from year to year and could be sponsored by local horticultural groups.
It was generally noted by the survey group, that parks need both activity zones and relaxation zones. They need to be seen as a great place to bring visitors year-round. Colour, music, regalia, accessibility, mixed illumination and a sense of welcome and safety all were noted as being ingredients to success.
Another feature proposed, that responds to the survey's findings, is to provide a stronger connection with the Riverside and Bayshore Trail system and waterfront parks. A cantilevered podium circle with a sail feature is being proposed as a shade structure and a high visual landmark along the river's edge which could be seen from the bridges and roads and announces not only the park but the trailhead of the two trails joining up. On this viewing podium would be a trails map, interpretation boards on natural attractions along the system and a general way-finding map of central Belleville. This feature may have to happen in a later development of the waterfront when the newly acquired land is designed for commercial/ residential uses.
As a note further to the way-finding, stations around the Commons are being proposed that show where you are in relation to attractions, shopping, dining etc. as well as having history pictures and simple stories of the area or neighbourhood one is in. These history "snap shots" and "history minutes" tell the stories of one of Canada's oldest cities settled by United Empire Loyalists and built up by people from all over the world. History tourism is recognized as being a real and viable draw along with culture, sports and recreational attractions.
MARKET SQUARE
For 150 years the Market Square has been a central institution in the City of Belleville. It has always been associated with the City Hall and at one time was located within the building. It was renovated to its current design 25 years ago and is showing its age, in need of care, attention and creative ideas to bring it into a vibrant new life in a competitive economy.
For many months of the year it is cold, windy and unpleasant to take in leisurely shopping and socializing. It lacks meeting and seating spaces for relaxation and simple dining. The basic structures are still practical for setting up the farmer stalls with their vehicles backed up for access to their produce and offerings. However, most vendors huddle in the cold and windy drafts many months of the year. Even in the spring and fall there are many days that are just uncomfortable enough when the morning sun has not yet warmed up the square.
The proposal for the Market Square is to provide indoor spaces that will provide comfortable shopping environments that could be open to a longer schedule that the typical Tuesday, Thursday and Saturday traditional market days. These enclosures can be open in good weather for ease of circulation. In the plan view and in the perspective rendering, you will note four such structures built into the existing covered stalls. They would have similar steel clad roofs to the lateral stalls but would be mostly metal frame construction sitting on brick knee walls, with generous glazing and door openings.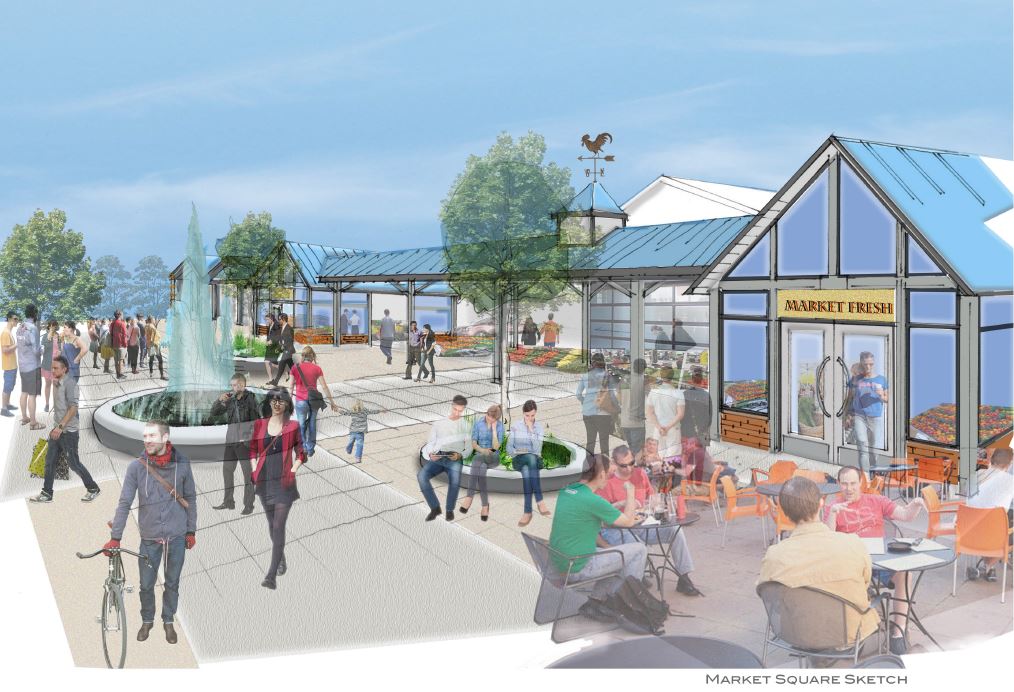 The four enclosed units could have comfortable four-season uses beyond what is currently associated with the Market. Uses could include a coffee and snacks cafe, an artisanal shop selling local meat, poultry and fish, cheeses, and preserves etc., a bakery shop with homemade breads and pastries, an arts and crafts boutique with hand-made items by local craftspeople.
In addition to these new enclosures, the use of garage-style doors with generous window openings are being recommended on the street side of the east-west oriented stalls on Market St and on Macannany St. These roll-up doors could be partially open or fully lowered to the ground to keep out chilly winds and extend the day and season. The doors would also be attractive backdrops to mask the vehicles behind and to give a sense of a semi-enclosed market place. To make the space more year-round and comfortable, there could also be overhead gas heaters one might associate with restaurant patios.
Many people surveyed have commented that there is no dedicated space for sitting and enjoying lunch at the Market. We are proposing bistro style (folding) tables and chairs set up around the central fountain feature. The fountain is centered in the north-south axis that is formed by the carriageway between the Century Village and the former Intelligencer building that lines up with the entrance to the Memorial Arena. Around the fountain we are showing trees in planters that have circular benches as part of the installation. This area forms the central hub of Market Square and could be a major attraction and meeting place in the downtown core.
It is being proposed that the Market Square be able to be closed off to traffic for special events such as Rotary Loves Kids annual Party in the Square. There are other pedestrian friendly events that could include concerts, craft fairs and food festivals, to name a few. A drive circle at the east end of City Hall would allow traffic flow during these events to access Century Village and Bourbon St. Pizza, etc.
The Maude Parrott Stage is well suited as a focal point on the east - west axis and it is felt another anchor should occur on that axis at Pinnacle Street on the east side. Imagine a gateway feature that announces the Belleville Commons – it is being called a totem as it also tells a story of the downtown core that was so vital to the history and growth of Belleville through the use of illuminated story boards spiraling up a centre steel post core. At the top of this 30 foot high beacon would be a sign announcing the Belleville Commons area. Pinnacle St. is a major north-south travel route for residents and visitors and this kind of focal point will make a dramatic and friendly statement as a locator beacon.
SUMMARY
There are many more descriptors that could be included with this set of "walk through" notes, but this narrative is meant to give a sense of direction for design of the Commons area. The adaptive reuse of the Memorial Arena is a key property that would add vitality to this area of the City. Many cities have a historically significant building like the Memorial that house unique shopping, dining, and event venues that support downtown residential intensification. It is the hope that the adaptive reuse of this building with a private sector partner that shares this vision of a downtown showcase.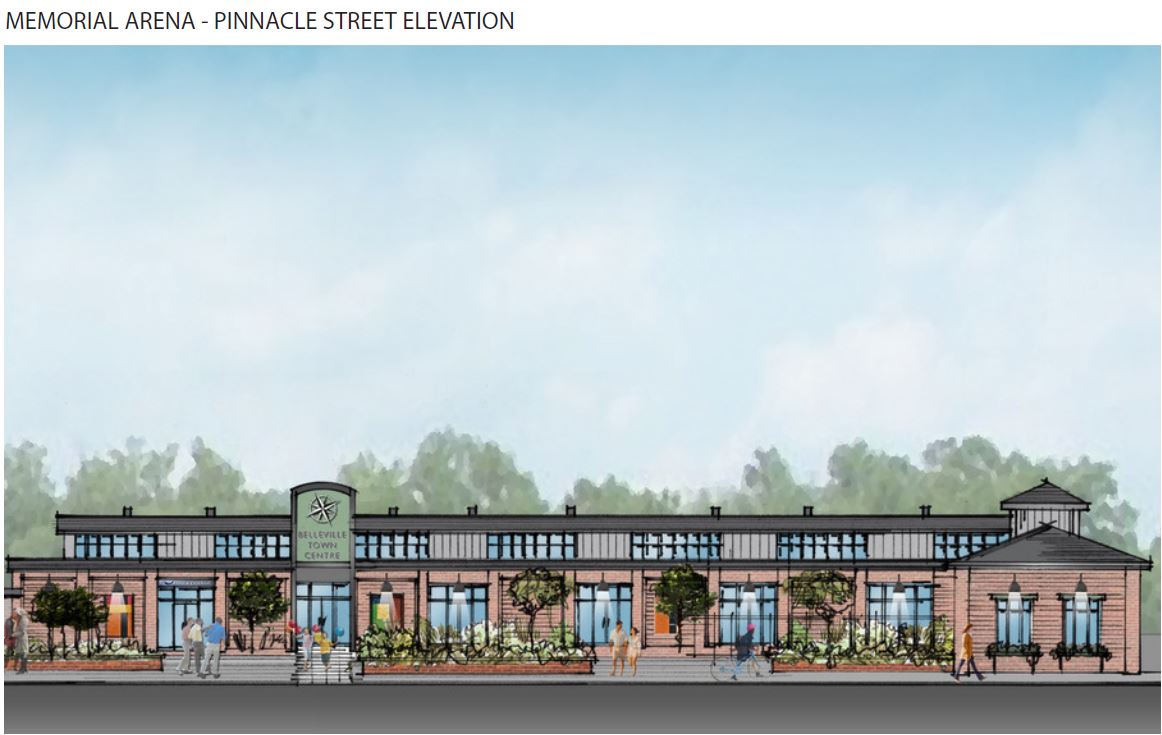 There are other urban ideas shown that address the links with the Commons to the waterfront, to downtown carriage ways, and to new residential developments that encourage investment.
One developer who spoke positively about the need to concentrate on this "Commons" area, noted that it is hard to make a fire with one stick, but many sticks put together makes for a great bonfire. This is an apt metaphor for building a stronger community in the Downtown.
---
Related Images