Belleville Shorelines Shuttle
---

The best way to see the best of Belleville!
Belleville is situated on the picturesque Bay of Quinte and is the perfect place to stop, relax and maybe stay for a day, a week or a lifetime.
Take the Tour
Hop-on-hop-off the 50 minute round trip tour that takes you along Belleville's beautiful waterfront, throughout East Hill, uptown and ends downtown, stopping at some of Belleville's most popular places to visit, dine, shop and enjoy. During the tour learn about the history of Belleville's beautiful East Hill, heritage homes and buildings throughout the City, the 25 great 'Belleville Bucket List' experiences for you to enjoy, and the history of Belleville including rum running on the Bay of Quinte.
Shuttle Tour Service
June 1 to September 2
7 days a week
11:00 a.m. to 9:00p.m.
Shuttle tickets (day passes) are available for visitors at tour stops, and are available on the shuttle to the general public for $2.50 per pass. Please note that regular City of Belleville Transit Passes are not applicable for the Shorelines Shuttle.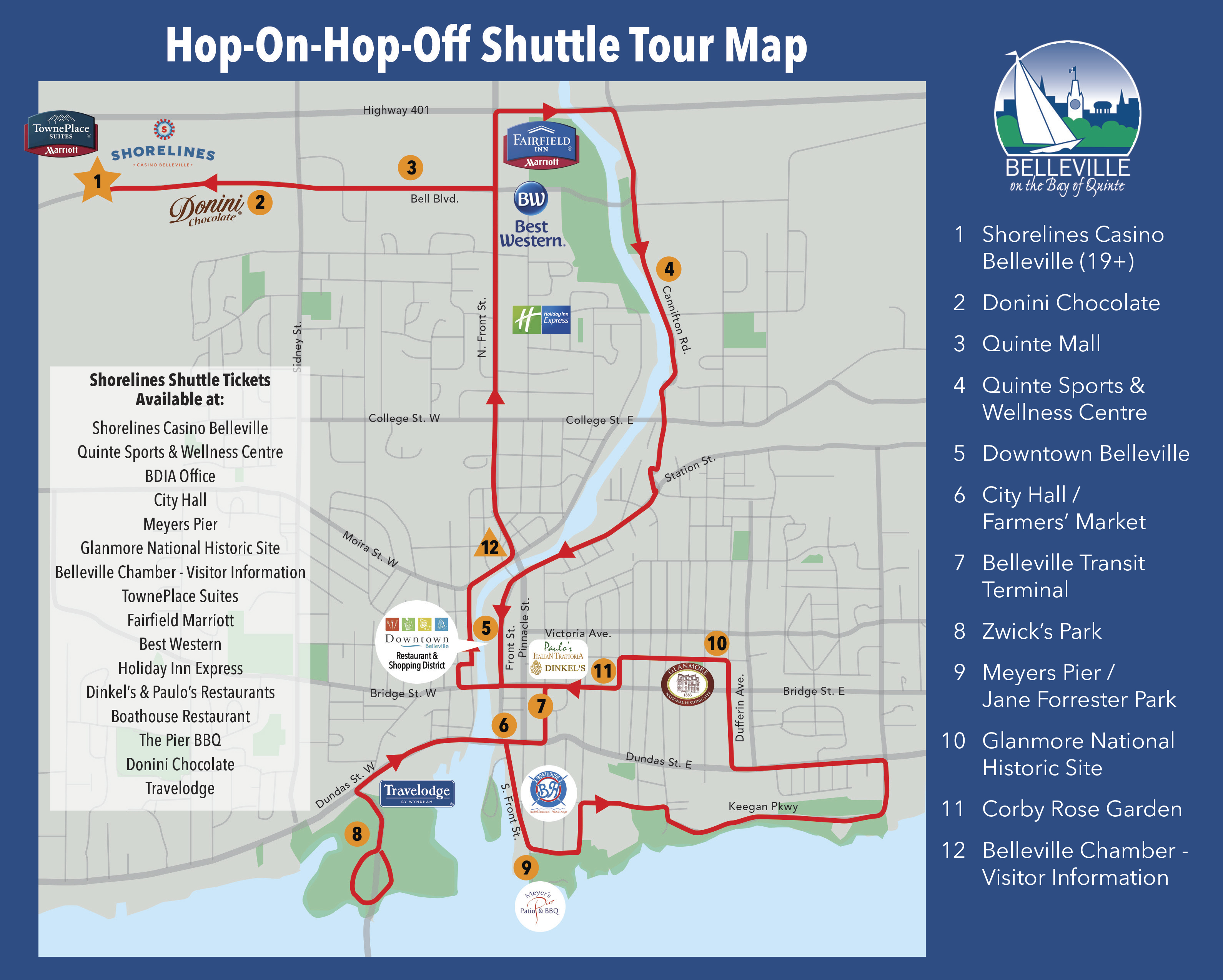 SHORELINES SHUTTLE TROLLEY SCHEDULE
Pinnacle Terminal
11:00
12:15
1:30
2:45
4:00
5:15
6:30
7:45
West Zwicks Island Park
11:03
12:18
1:33
2:48
4:03
5:18
6:33
7:48
Travelodge Hotel
11:05
12:20
1:35
2:50
4:05
5:20
6:35
7:50
Boathouse Restaurant
11:10
12:25
1:40
2:55
4:10
5:25
6:40
7:55
Meyers Pier
11:12
12:27
1:42
2:57
4:12
5:27
6:42
7:57
Keegan Pkwy @ Saturn Playground
11:16
12:31
1:46
3:01
4:16
5:31
6:46
8:01
Glanmore National Historical Site
11:21
12:36
1:51
3:06
4:21
5:36
6:51
8:06
Corby Park Rose Garden
11:25
12:40
1:55
3:10
4:25
5:40
6:55
8:10
Dinkel's & Paulo Restaurants
11:28
12:43
1:58
3:13
4:28
5:43
6:58
8:13
Holiday Inn Express and Suites
11:36
12:51
2:06
3:21
4:36
5:51
7:06
8:21
Shorelines Casino
11:45
1:00
2:15
3:30
4:45
6:00
7:15
8:30
TownePlace Suites by Marriot
11:47
1:02
2:17
3:32
4:47
6:02
7:17
8:32
Donini Chocolate
11:49
1:04
2:19
3:34
4:49
6:04
7:19
8:34
Best Western
11:53
1:08
2:23
3:38
4:53
6:08
7:23
8:38
Fairfield Inn & Suites by Marriot
11:53
1:08
2:23
3:38
4:53
6:08
7:23
8:38
Quinte Sports and Wellness Centre
11:57
1:12
2:27
3:42
4:57
6:12
7:27
8:42
Memorial Park
12:02
1:17
2:32
3:47
5:02
6:17
7:32
8:47
404 Front St
12:04
1:19
2:34
3:49
5:04
6:19
7:34
8:49
306 Front St
12:05
1:20
2:35
3:50
5:05
6:20
7:35
8:50
232 Front St
12:06
1:21
2:36
3:51
5:06
6:21
7:36
8:51
Pinnacle Terminal
12:10
1:25
2:40
3:55
5:10
6:25
7:40
8:55
---
Related Images