Building
---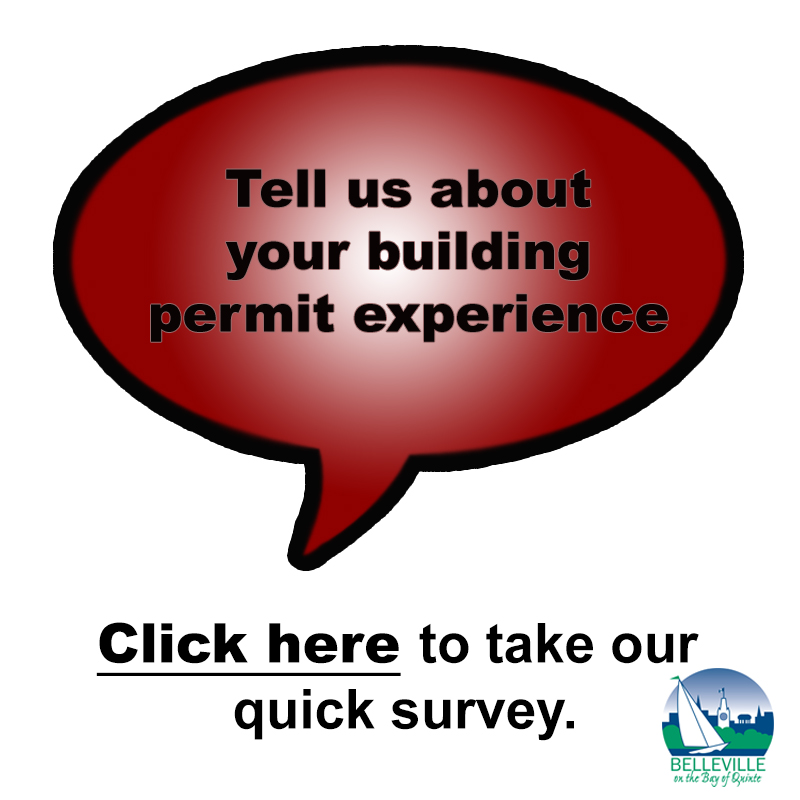 The Building Department is accepting applications via online portal. Before beginning the process, be sure to have your completed application along with your plans and any documents required combined ready to upload and submit. Please note that the online portal is not your application but simply a means of applying for a permit. Customers will need to login to https://building.belleville.ca/cityviewportal. .
A building permit is your formal permission to begin construction or demolition. It means that the City of Belleville has reviewed the plans for any proposed structure, addition or renovation for compliance with the Ontario Building Code, local zoning bylaws, and other applicable laws and regulations.
The building code creates a level playing field by establishing minimum standards for construction that apply across the Province of Ontario. The building permit process protects the interests of property and building owners, as well as those of the community by ensuring the buildings in which we all live, work and play are safe, legal and sound.
By obtaining a permit, you are not only making a sound investment for yourself but also an investment that will serve the community for many years to come. Building Inspection staff have many years of building code compliance and construction experience and can often be a source of helpful advice to help solve construction problems, often before they occur.
In many cases, your designer or contractor can obtain a building permit on your behalf. However, it is ultimately the responsibility of the building owner to ensure that a building permit has been obtained prior to commencing and construction or demolition work. A homeowner who is acting as his / her own general contractor is required to obtain a "Letter of Confirmation" from TARION Warranty Corporation before the City can issue a building permit to that owner. Information about this process and the application for the Letter of Confirmation can be obtained at this link to TARION's website: https://www.tarion.com/info/ownerbuilder
WHEN DO I NEED A BUILDING PERMIT?
Some examples of when a building permit is required to be obtained are before you do any of the following:
construct a new building
renovate, repair or add to a building
demolish or remove all or a portion of a building
change a building's use
install, change or remove interior, exterior or load-bearing walls
make new openings for, or change the size of, doors and windows
build a garage, balcony or deck or enclose an existing deck
build a utility shed over 108ft2 (10m2)
excavate a basement or construct a foundation
install or modify any life safety or fire suppression system such as fire alarms, sprinkler or standpipe or fixed extinguishing systems including commercial kitchen exhaust hoods and the installation of electromagnetic locking devices
install or modify heating, plumbing, and air conditioning systems, fireplaces, fireplace inserts and woodstoves
install kitchen or bathroom cupboards with plumbing
construct a chimney
to finish a basement or convert a room to a bedroom
to install a swimming pool, swim spa or hot tub
erect a sign
Some examples of when a building permit is not required are:
replace existing, same-size doors and windows
install siding on small residential buildings, subject to distance from property lines
build a utility shed under 108ft2 (10 m2)
reshingle a roof, provided there is no structural work
install eavestroughs, provided that drainage is contained on your property
re-damp-proof existing basements
paint or decorate
reinstall / replace kitchen or bathroom cupboards without plumbing.
erect a fence (except swimming pools and outside hot tubs require permits)
WHAT IF I HAVE A HERITAGE PROPERTY?
If you are the owner of a property designated under Part IV or V of the Ontario Heritage Act, you may require approval from Council prior to obtaining a building permit. Heritage approvals may be required for work not requiring a building permit. Please confirm with the Special Projects Planner what approval(s) are required for your specific job. For more information on altering or renovating a property designated under the Ontario Heritage Act, contact the Special Projects Planner, Greg Pinchin at 613-967-3319.
WHAT HAPPENS IF I DO NOT GET A PERMIT?
It is unlawful to start construction without the required permits. If you start construction without the necessary permits, you may be ordered to stop work, ordered to remove work already done, and you could also be subject to prosecution for contravention of the Building Code Act. Please contact the Building Section if you are not sure whether you need a permit for your project.
WHAT DOES THE BUILDING INSPECTOR DO?
A building inspector reviews projects during key stages of construction to ensure work complies with the Building Code and the plans originally submitted for review. The inspector may visit a site several times depending on the project. Work that requires inspection must not be covered, concealed or enclosed before it is inspected by the Building Inspector. It is the owner's (or contractor's) responsibility to notify the Building Inspector of the stages of construction that require inspection and a minimum of 48 hours notice is required to be provided.
WHEN I PURCHASE A HOME, SHOULD I CONSULT A BUILDING INSPECTOR?
The city does not conduct pre-purchase inspections. (For locating a pre-purchase building inspection service, (Home Inspector) please refer to the Yellow Pages of the telephone directory.)
However, if you have questions or concerns about your new home, or to determine if a finished basement or apartment is legal and meets the Ontario Building Code and Property Standards requirements, you can contact the City's Building & By-law Enforcement Section.
As the new home owner, it is your responsibility to ensure you use the home in a manner that meets the Ontario Building Code. Do not assume the previous owner obtained a building permit before doing renovations to the home.
WHERE DO I APPLY FOR A PERMIT?
You can make an application for a permit, Monday through Friday, 8:30 a.m. to 4:30 p.m. at:
Engineering and Development Services Department
Building & By-law Enforcement Section 2nd Floor
City of Belleville
169 Front Street
Belleville Ontario K8N 2Y8
Telephone: 613-967-3204
Fax: 613-967-3262
The City of Belleville Building Section prides itself on providing exceptional customer service to every customer. We would very much like to hear about your experience dealing with the Building Section. We are always looking at ways to improve our service to you and would appreciate hearing from you. If we went above and beyond to serve you then we would appreciate hearing about your experience and if we could have done something better we would like to hear about this too. Please take a few minutes to fill out this comment sheet, Customer Comments.
Please visit the Ontario Building Code Act for more information.
City of Belleville Building By-Law
BUILDING PERMITS
Guide to Completing Your Permit Application
Building Permit Application - Please submit ALL pages with every application
Plot Plan for Building Permit Application
Commitment to General Reviews by Architects & Engineers
Swimming Pool Permit Application
Second Dwelling Units - Building Department Handout July, 2019
Permanent Sign - Application to Construct or Demolish
Application for a Portable Sign Permit
Portable Sign Authorization Letter
Energy Efficiency Compliance Forms
1. New homes
2. Part 9 Non-residential Buildings
3. ASHRAE 90.1 – 2013 + SB-10 Division 3 & Chapter 2
4. NECB 2015 + SB—10 Division 3 & Chapter 3
Residential and other Building Permit Documents
---
Related Downloads
Deck Construction Brochure
Guards for Housing & Small Buildings
Residential Addition Brochure
Code of Conduct for Building Officials
Swimming Pool Enclosure Brochure
New Home Construction Brochure